OpenSky Credit Card Review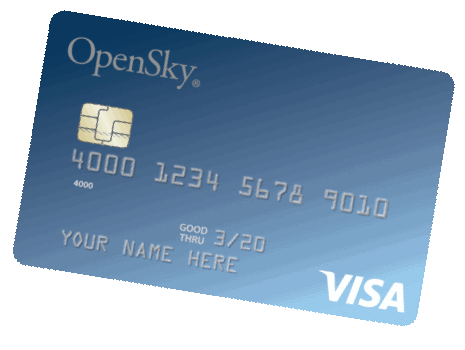 OpenSky - Great Choice for a Secured Credit Card
The
OpenSky® Secured Visa® Credit Card
is one of the best
secured credit cards
available, especially for those who don't have the best credit history. There is no credit check required when applying for this card, meaning that you can be approved even if you have bad credit and there won't be a hard inquiry to your credit history when you apply. This is part of what makes OpenSky so great - people with bad or even no credit history can still have high approval odds.

How to Get Approved
While OpenSky doesn't require a credit check, there are still some requirements to be approved. The most important of these is that you must be at least 18 years old and you must be able to afford the $200 minimum security deposit, as well as paying the $35 annual fee and your monthly bill payments. The security deposit is a standard requirement for all secured credit cards. This money is refundable and acts as your credit limit. As long as you pay off your credit card bill each month, you will be able to get your money back when you close the account.
OpenSky Can Help You Build Credit
Most credit cards (even
secured cards
) require a credit check and other requirements that make it hard to get approved. But OpenSky makes it easy for anyone to apply, even if you've had a recent bankrupty or tax lien in your history. As long as they can verify your identity, you are eligible to be approved. Once you have the card, OpenSky reports to all three major credit bureaus, giving you a chance to
improve your credit score
and eventually get a new,
unsecured credit card
.
Fees and Interest Rate
The
OpenSky Secured Card
charges a $35 annual fee. This fee is fairly average among secured cards and it is significantly lower than what many unsecured cards charge. The benefits from the OpenSky card far outweigh the price of this annual fee. In addition, the minimum deposit amount of $200 is a bit lower than many other secured cards, which may make it easier for many to get started with this card.
The interest rate on the OpenSky card is variable at 18.14% APR. While this isn't too high, we would still recommend that you pay off our balance every month. This helps keep you from paying extra money and can help improve your credit score over time. It is best to
not carry a balance
from month to month, except in the case of an emergency. It's not the best idea to use this card for making big, expensive purchases that will accure interest and eat up your $200 deposit. This card shines when it is used to improve your credit by paying off your bill every month.
The Bottom Line
While there may be many credit card options for those with
bad credit
, not many are as widely available and helpful as the OpenSky® Secured Visa® Credit Card. We recommend this card as a great place to start for anyone looking to start building their credit history or anyone trying to weather the storm of their bad credit history. Just like its name indicates, OpenSky can clear those clouds of bad credit and help the sun shine again.
Click here to apply for the
OpenSky Secured Credit Card
today!